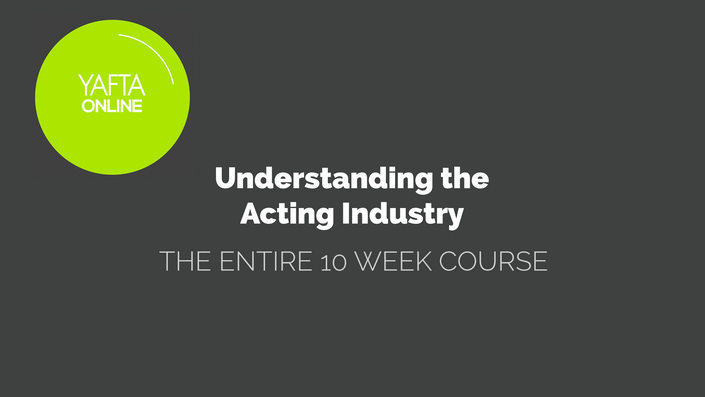 Understanding the Acting Industry: A Guide to Getting Started
Everything you need to know about the acting industry in one 10 week course.
Watch Promo
Our ten week unique online course will equip you with all the industry knowledge you need to work as a professional actor.
This course has been developed for those who are relatively new to the acting industry and also for parents of child and teenage actors who feel that they would benefit from some training on the business side of the acting industry.
The knowledge that will be gained through this 10 week programme is imperative for anyone wanting to work as a professional actor or for parents of actors.
We know that the industry can be incredibly daunting for newcomers and there is a lot that you are expected to understand about various things such auditioning, self taping and showreels for example, but until now there was no one stop shop for you to learn about these things in a simple format. It was this that encouraged us to create this unique and informative course which consists of ten weekly modules followed by a short multiple choice quiz to test your knowledge.

OVER OUR 10 WEEK COURSE YOU WILL COVER THE FOLLOWING MODULES:
Introduction to the Acting Industry

Agents

Headshots & Showreels

Memberships

Amateur vs Professional Work

Auditioning and Casting Directors

Fees and Buyouts

Self Taping

Expectations of an Actor

Self Assessment & Tax.
Frequently Asked Questions
DO I NEED TO BUY THE WHOLE COURSE AT ONCE?
No, you are free to buy whichever modules of the courses you want, whenever you want. There is, however, a discounted rate for buying a course as a complete unit rather than in separate modules.
CAN I BUY COURSE MODULES SEPARATELY?
Although our courses are designed as a complete unit, giving you a comprehensive understanding of the topics as a whole, we recognise that buying individual modules may better suit actors with different requirements and at different stages of their careers. Feel free to dip into our courses in a way that suits you.
DO I NEED TO COMPLETE THE COURSE IN ORDER?
It's up to you. We have designed our courses with a structure and progression we think is most effective. That said, if you urgently need to film a self tape, for example, and want advice about that, go ahead and watch the modules which are most relevant to you first.
THE VIDEO IS LOADING SLOWLY.
This is probably down to your internet connection. See if you can get a better signal by moving closer to the router. If this doesn't help or isn't possible, set a video loading and leave it for a few minutes (perhaps practise a monologue or check your CCP/Spotlight profile is up to date while you wait). This way enough of the video should have loaded to allow you to watch the beginning as the rest loads.
CAN I WATCH THE VIDEOS ON MY MOBILE PHONE?
Yes! The YAFTA virtual learning environment is designed to provide industry training wherever you are so you can easily learn while you're on the move or away from your regular computer.
WHO IS SPEAKING IN THE VIDEOS?
The voice you hear in the videos is YAFTA's Managing Director Charlotte Armitage. Charlotte is a Spotlight registered agent for both child and adult performers and a casting director, as well as being an actress and presenter herself. This makes her uniquely qualified to provide industry advice and insight and she has created the courses, along with the YAFTA Team, to share this knowledge.
WHAT IF I HAVE A SUGGESTION OR REQUEST?
We would love to hear your suggestions for how we can improve and expand the YAFTA virtual learning environment. Whether you have suggestions for our current courses or feel there is a topic we haven't yet covered that you'd like a video on, get in touch at
[email protected]
.
DIDN'T FIND THE ANSWER?
If you couldn't find the answer you are looking for or if you have a suggestion for a course that you would like to see on the YAFTA VLE, please drop us a message.